---
Medical Illustrations & Litigation Graphics
---
Medical Illustration Case of the Month: May 2000
This case involved multiple problems in the lumbar spine, including disc herniations at two levels, spondylolysis and spondylolisthesis. Two 30"x40" illustrations were prepared, one depicting the pre-surgery conditions, and the other showing the spine after an extensive decompression and stabilization surgery.

Click on the image to see a larger picture.

Detail of left side view showing herniations.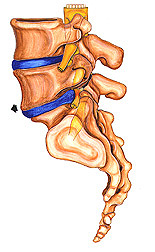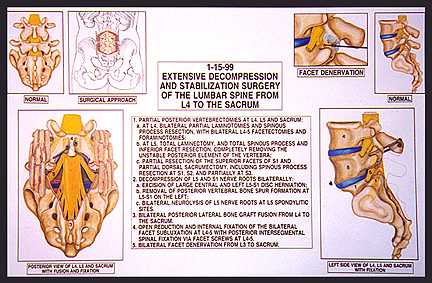 Details of posterior and left side views after decompression.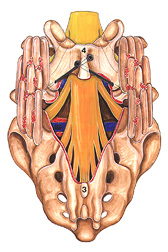 Return to the archive of other monthly cases,
or view the current case of the month....
---
For further information or price list, contact: Debra Howell
Howell MediGraphics
1540 Adams Street, New Orleans, Louisiana 70118-4002
Telephone/Fax: 1-504-865-1490
Toll-Free: 1-888-791-6315
or email requests to: MediGraphics
---
[MediGraphics Home Page] [Medical Art Gallery] [Graphic Art Gallery] [Fine Art Gallery] [Links]
---
All contents of this website © Debra Howell