---
Medical Illustrations & Litigation Graphics
---
Medical Illustration Case of the Month: January 2000
A trial-size (30"x40") illustration depicting (1) a sagittal view of the lumbar vertebrae and (2) a cross-section view of the L5-S1 disc on a top view of the sacrum. The illustration was used to confirm that the findings of two MRI's that were done approximately eighteen months apart were essentially identical.

Illustration Cost Range: $400.00-$600.00

Click on the image to see a larger picture.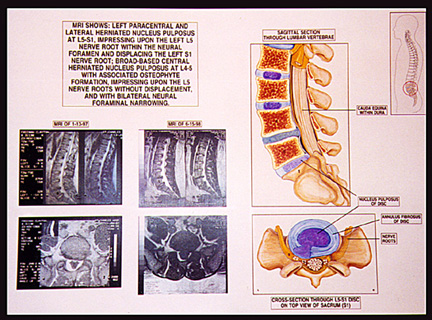 Return to the archive of other monthly cases,
or view the current case of the month....
---
For further information or price list, contact: Debra Howell
Howell MediGraphics
1540 Adams Street, New Orleans, Louisiana 70118-4002
Telephone/Fax: 1-504-865-1490
Toll-Free: 1-888-791-6315
or email requests to: MediGraphics
---
[MediGraphics Home Page] [Case of the Month] [Medical Art Gallery] [Graphic Art Gallery] [Fine Art Gallery] [Links]
---
All contents of this website © Debra Howell