---
Medical Illustrations & Litigation Graphics
---
Medical Illustration Case of the Month: February 2000
A trial-size (30"x40") illustration depicting a dorsal view of the right wrist and hand. A previous solidly healed 4-corner carpal fusion done with bone graft and staples is shown, and the new fusion of the wrist involving placement of additional bone graft, plate and screws.

Click on the image to see a larger picture.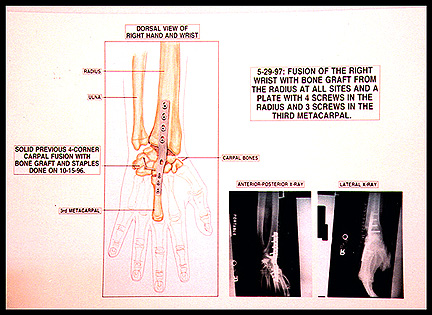 Detail of the wrist.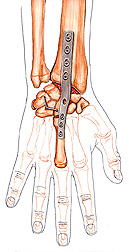 Return to the archive of other monthly cases,
or view the current case of the month....
---
For further information or price list, contact: Debra Howell
Howell MediGraphics
1540 Adams Street, New Orleans, Louisiana 70118-4002
Telephone/Fax: 1-504-865-1490
Toll-Free: 1-888-791-6315
or email requests to: MediGraphics
---
[MediGraphics Home Page] [Case of the Month] [Medical Art Gallery] [Graphic Art Gallery] [Fine Art Gallery] [Links]
---
All contents of this website © Debra Howell